Miranda Roberson, RN – Chief Executive Officer – Ms. Roberson has over 25 years of home care/healthcare management experience. Prior to HomeNurse, Ms. Roberson served as Chief Financial Officer for a leading home health care agency in Georgia.  At HomeNurse, Ms. Roberson is on the forefront of technology and innovation to provide quality homecare services in the most caring and optimum way for clients. Under her leadership, HomeNurse is one of the most technologically advanced providers of its kind in Georgia, having its own proprietary customer relationships management system, resulting in more, dependable, quality, and timely care.   Possessing the vision, intellect and courage, Ms. Roberson demonstrates, each and every day, the readiness to welcome and implement change to better serve our clients now and well into the future. Ms. Roberson also served as an auditor for Price Waterhouse. Ms. Roberson received a bachelor of arts in business administration from the University of Georgia, magna cum laude in accounting. Ms. Roberson earned her nursing degree from Gordon College, cum laude.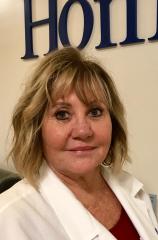 Libby Able, RN – President/Administrator – Ms. Able has worked in healthcare and homecare for over 30 years and has been with HomeNurse since Ms. Roberson became CEO.  Ms. Able is an unwavering advocate for the elderly and disabled populations and continues to be passionate about delivering quality homecare services. Ms. Able is a dedicated leader and supporter in serving Georgia's community based programs. Under her guidance, HomeNurse continues to excel and receive high marks in various program and regulatory audits relating to care.   Most importantly, she has been on the forefront of developing effective communications and teamwork initiatives between our caregivers and clients. Her steadfast, keen focus on clinical care continues re-shape and lead within our industry in Georgia. Ms. Able earned her nursing degree from Gordon College. Ms. Able is responsible for the company's daily operations. She is a Member of the Georgia Home Care Association and a Board Member of the Georgia Association of Community Care Providers.
Peter Brual, Chairman, Executive Vice President, MBA – Mr. Brual has over 25 years of homecare start-up, sales, marketing and management experience. Mr. Brual oversees the company's strategic direction, technology, and business development initiatives.  Mr. Brual is a steadfast advocate for the elderly and populations most in need. Under his leadership, HomeNurse continues to develop and implement educational and enrollment initiatives that insures fair, timely and consistent access to various community programs.  Mr. Brual is a graduate of the U.S. Military Academy at West Point and served in the Army Infantry, earning Ranger, Airborne and Air Assault qualifications, and attaining the rank of Captain. Mr. Brual holds an MBA from the J.L. Kellogg Graduate School of Management at Northwestern University.
Pam Harbin, RN, DDP, Director of DBHDD – Mrs. Harbin is responsible for the daily operations of our DD Division. She has over 8 years of experience as a Registered Nurse in homecare and hospice care.  Her work experiences include Brightmoor Hospice, Cancer Treatment Center of America, Piedmont Cancer Institute and Northside Hospital/Georgia Cancer Specialists. At these companies, Pam worked closely with patient, family and staff education.  She also provided direct care and supervised care for many clients.  She received her nursing degree from Gordon State College in Barnesville, GA.
Carolyn English, RN, MSN – Clinical – Ms. English has amassed over 45 years of nursing experience as a staff nurse, head nurse, and clinical instructor in numerous health care environments and settings across the country. Most recently, Ms. English served as a medical nurse at Southern Regional Medical Center in Riverdale, Georgia. Ms. English also served as Head of Staff Development and Training for a leading home health agency. Ms. English earned a BSN from the University of Alabama and a MSN from Emory University. Ms. English is also a certified legal nurse consultant, physician preceptor and nurse practitioner.
Sandra Lohnes – Chief Financial Officer –  Ms. Lohnes has worked in various finance, accounting and management positions for nearly 30 years.  Ms. Lohnes is responsible for all financial operations to include payroll, billing and accounting. Ms. Lohnes is passionate about homecare and insures the company has the optimum level of resources and accountability to excel in our delivery of care.  Ms. Lohnes holds an Associate Degree in accounting from Griffin Technical College and a Bachelor in Business Administration in accounting from Clayton State University.
Deanna Albritton – Vice President, Programs, CNA – Ms. Albritton's experience in Georgia home care exceeds over 18 years in nursing and home care settings.  She has worked at every level of patient care at HomeNurse and within the industry.  Her unique and in-depth knowledge provides HomeNurse a clear vantage point… to operate and deliver quality of care at the highest levels, on a daily basis, within the various programs we participate in. Ms. Albritton continues to embrace the constant change, within each unique program we serve, in order to meet and exceed staffing levels and goals of our clients.
Christopher B. Nix – Vice President of Information Technology – Mr. Nix is responsible for all technology and systems initiatives pertaining to daily operations of the company. He has over 30 years of I.T. experience.  Under his direction, Mr. Nix continues to keep HomeNurse one of the most technologically advanced providers in the State, enabling unmatched collaboration and communications. Prior to HomeNurse, Mr. Nix served 10 years with Thomaston Mills, Inc. in the positions of Process Control and Network Administrator. Mr. Nix also served 8 years with the Ga. National Guard and Reserves. Mr. Nix attended Gordon College and also earned a computer specialist designation from Flint River Technical College.