Our leadership team, led by Miranda Roberson, RN, provides the governance, vision and strategic direction for HomeNurse. The team's sole focus is to set the goals and objectives, to exceed our clients' expectations, in the delivery of their care in all programs we serve.
Miranda Roberson, RN – Chief Executive Officer – Ms. Roberson has over 25 years of home care/healthcare management experience. Prior to HomeNurse, Ms. Roberson served as Chief Financial Officer for a leading home health care agency in Georgia.  At HomeNurse, Ms. Roberson is on the forefront of technology and innovation to provide quality homecare services in the most caring and optimum way for clients. Under her leadership, HomeNurse is one of the most technologically advanced providers of its kind in Georgia, having its own proprietary customer relationships management system, resulting in more, dependable, quality, and timely care.   Possessing the vision, intellect and courage, Ms. Roberson demonstrates, each and every day, the readiness to welcome and implement change to better serve our clients now and well into the future. Ms. Roberson also served as an auditor for Price Waterhouse. Ms. Roberson received a bachelor of arts in business administration from the University of Georgia, magna cum laude in accounting. Ms. Roberson earned her nursing degree from Gordon College, cum laude.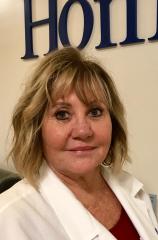 Libby Able, RN – President/Administrator – Ms. Able has worked in healthcare and homecare for over 30 years and has been with HomeNurse since Ms. Roberson became CEO.  Ms. Able is an unwavering advocate for the elderly and disabled populations and continues to be passionate about delivering quality homecare services. Ms. Able is a dedicated leader and supporter in serving Georgia's community based programs. Under her guidance, HomeNurse continues to excel and receive high marks in various program and regulatory audits relating to care.   Most importantly, she has been on the forefront of developing effective communications and teamwork initiatives between our caregivers and clients. Her steadfast, keen focus on clinical care continues re-shape and lead within our industry in Georgia. Ms. Able earned her nursing degree from Gordon College. Ms. Able is responsible for the company's daily operations. She is a Member of the Georgia Home Care Association and a Board Member of the Georgia Association of Community Care Providers.
Peter Brual, Chairman, Executive Vice President, MBA – Mr. Brual has over 25 years of homecare start-up, sales, marketing and management experience. Mr. Brual oversees the company's strategic direction, technology, and business development initiatives.  Mr. Brual is a steadfast advocate for the elderly and populations most in need. Under his leadership, HomeNurse continues to develop and implement educational and enrollment initiatives that insures fair, timely and consistent access to various community programs.  Mr. Brual is a graduate of the U.S. Military Academy at West Point and served in the Army Infantry, earning Ranger, Airborne and Air Assault qualifications, and attaining the rank of Captain. Mr. Brual holds an MBA from the J.L. Kellogg Graduate School of Management at Northwestern University.
Gail S. Finley, RN – Ms. Finley has over 35 years of nursing and home health care experience. Most recently, Ms. Finley founded one of Georgia's leading home health agencies, Liberty Home Health, Inc. Through Ms. Finley's leadership and vision, the company grew to one of the top providers in the state of Georgia. The company was sold to Georgia Baptist. Ms Finley was a finalist for the Ernst & Young/Merrill Lynch Entrepreneur of the Year Award. Ms. Finley earned her nursing degree from South Georgia College. She is certified in psychiatric and mental health nursing by the ANCC.